Crab cakes without breadcrumbs?
I've already made Keto crab cakes before. So why the repeat? Well for starters it's a different recipe. But there is a story too it which is a bit long but I'll tell it anyway. I use a tool called VidIQ which gives me 'content ideas' everyday. One of those ideas was 'crab cakes with feta salad' and I thought OK, let's make it.  I love crab but I hate getting my hands dirty and I am lazy. So I asked around on Instagram if anyone knew where I could be crab meat. Either raw or cooked it didn't matter, I just didn't want to clean crabs.
Of course the internet responded and I got contacted as well by two companies that deal in crab meat. Cambay Tiger who send me raw and cleaned crab meat and the other called Off The Hook who have introduced cooked crab meat in packed containers. I'm talking like what you get in the USA and other foreign countries. I asked you guys what I should make and crab cakes actually got the most votes. So I used the cooked crab meat for this recipe. The raw one is still in my freezer and I'll make something else with that.
But for now here is my new recipe for crab cakes, cheesy and delicious.
It ain't cheap
Crab is a luxury. It's not an everyday food and it's really an indulgence. But why should that limit you? This recipe can work with any seafood. You can use canned crab which is cheaper I believe, tuna or salmon that's canned. If you have fresh fish just pan fry it with salt and pepper and then shred it. You can even blitz some prawns in your blender.
Not a fan of seafood? Why not use some shredded chicken breast or canned chicken. There are plenty of options available. If you want to give this a spicy kick throw in some chopped jalapenos or chili powder. It's your call.

Nutrition Info (Per crab cake)
Calories: 127
Net Carbs: 0g
Carbs: 1g
Fat: 7g
Protein: 15g
Fiber: 1g
This recipe makes 5 crab cakes.  Get this recipe on myfitnesspal.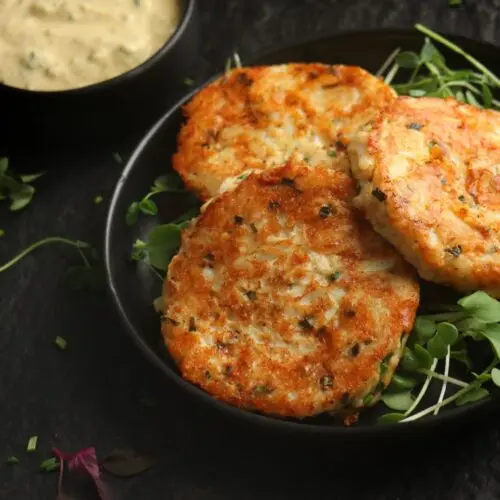 Cheesy Keto Crab Cakes
Cheesy, easy and delicious
Ingredients
For the crab cakes
250

grams

Jumbo Lump Crab Meat

You can also use fresh, canned or even fish for this recipe

60

grams

Mozzarella Cheeese

You want the dry shredded kind. You can also use cheddar

30

grams

Cream Cheese

1

Egg

1

Tsp

Old Bay Seasoning

5

grams

Chives

Salt & Pepper to taste

1

Tsp

Olive oil for frying
For the dipping sauce
60

grams

Mayonnaise

7

grams

Mustard

7

grams

Hot Sauce

2

Tsp

Pickle Juice

15

grams

Pickles

either grated or finely chopped

1/2

Tsp

Garlic Powder

1/2

Tsp

Old Bay Seasoning

Salt & Pepper to taste
Instructions
In a large mixing bowl add the cream cheese and microwave for 10-15 seconds.

Then add in the mozzarella cheese and egg and give everything a good mix. You can use any cheese you like.

Season with Old Bay seasoning and add in the chives.

Finally add the crab meat and season with a bit of salt and pepper

Give everything a good mix and your crab mix is ready.

Now shape the crab cakes using either a ring mold, a cookie cutter or your hands.

Some people like to use a tray with parchment paper to keep the crab cakes on but I just use regular plates.

Then pop it in the fridge to chill for 10 minutes.

Heat the olive oil in a pan and once hot add in the crab cakes.

You want to keep the heat medium low/medium so you don't cook the outside too fast.

Allow each side to cook for 3-4 minutes. Once one side is cooked flip it over and finish cooking.

Use a nice non stick pan since the cheese will melt and form a crust. If you use any other pan make sure it's well seasoned and you might want to add a touch more oil

For the sauce just mix everything in a bowl and it's ready.

Serve the crab cakes with the dipping sauce on a bed of greens. I'd recommend either peppery microgreens or something like watercress. Even arugula/rocket lettuce will work. You can dress it with some lemon and olive oil.