Almond Flour Waffles | Low Carb Waffles
Keto Waffles, Gluten Free Waffles
On the back of my vegan week I figured it's time to up the meat game but I also wanted to do something different, so I made waffle sandwiches. This is my new recipe for low carb waffles using almond flour which are Keto friendly as well. I used them to make a wafflewich which is a cross between a waffle and a sandwich. I made a pork burger with one and the other a crazy ham and cheese wafflewich.
Peanut butter & Coconut Flour
Before anyone leaves me a comment asking if they can make this recipe with coconut flour. Let me share my coconut flour waffle and peanut butter waffle recipes with you. There are quite a few options for you now to make waffles using various flours or nuts. You should also get creative with the waffles. Waffles can be had for breakfast with some eggs, ham or just butter and sugar free syrup. They are perfect for lunch in a sandwich form like I whipped up in this video and also great as a dessert with some chocolate ganache.
Nutrition Info (Per serving)
Calories: 586
Net Carbs: 8g
Carbs: 13g
Fat: 52g
Protein: 13g
Fiber: 5g
This recipe makes 1 servings. 1 Serving = 1 Waffle. Get this recipe on myfitnesspal.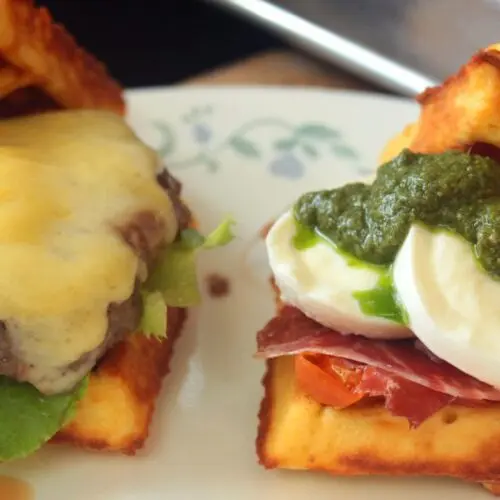 Almond Flour Keto Waffles | Low Carb Waffles
Delicious low carb and Keto friendly waffles.
Instructions
Mix all the ingredients together

Pour into waffle machine

Serve once cooked