An Indian staple
This home made yellow dal tadka is super easy to make. If I'm being honest I've never made dal before. I've always eaten dal but never cooked it myself. While I was doing my Indian food challenge I realized that dal on it's own is really low in fat. It's only when people load it up on the butter and ghee does it get way too high in calories and fat. So it seemed obvious to me that this was the perfect home cooked meal you could eat and not worry about putting on weight.
Dal and rice is a staple in most Indian houses. It's comfort food for most people. You pressure cook you lentils and flavour it with curry leaves, green chili, spices like red chili powder, tumeric and coriander powder. There are many versions of yellow dal tadka. So today let me show you how I make mine.
What is dal?
Dal basically refers to lentils. In India we eat it with rice normally or roti. If the dal is thick, then rot or naani, if it's more liquid then rice. There are tons of different kinds of dal. What I've made is like yellow dal or yellow lentil soup which might make more sense if you aren't familiar. People use moong dal, masoor dal, basically a different type of lentils makes a different kind of dal.  Sometimes people like to mix and match too, red lentils plus yellow lentils. You get the idea.
Now you can boil your lentils in a pot on the stove top to cook them but most people in India prefer to cook them using a pressure cooker. You can also soak then in a coupe of cups of water for like 30 min before cooking. When it comes to cooking a lot of people like to add onions, tomato, ginger, garlic and various spices. At the end you want to give your dal a tadka which is frying cumin seeds, chilies, mustard seeds, asafetida etc. This is basically tempering the spices. Truth be told you can add a variety of ingredients into dal. You even have dal with mutton (goat meat in India) and chicken.
And you always want to finish dal with fresh coriander leaf. It just completes the dish.
Is yellow dal health? Does dal contain protein?
Let's cut to the chase. Dal is health. Does does have protein? Yes. However it's not as much as you think. 100g of boiled lentils has about 9g of protein. Compared to 31g in 100g of a chicken breast it's a lot less. However for vegetarians dal does provide a protein and fiber and it's good to include it in your diet. But remember it's more carbs than protein. We're talking about 20g of carbs per 100g boil lentils from which 8g is fiber.
But it is health. It's an excellent source of iron, magnesium, B vitamins, zinc and potassium. So it's good to include it as part of a healthy diet. And if you're looking to pack in more protein just throw in some chicken breast into the dal and it's power packed.
How to make yellow dal? Just scroll to the recipe.
Nutrition Info (Per serving)
Calories: 135
Carbs: 19g
Fat: 4g
Protein: 7g
Fiber: 0g
This recipe makes 4 servings. Get this recipe on myfitnesspal.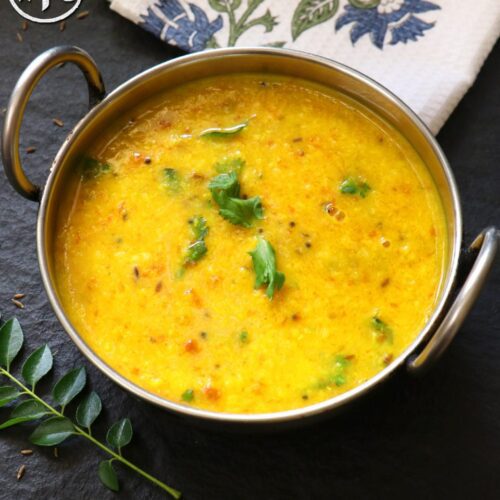 Yellow Dal Tadka
An Indian lentil stew
Ingredients
100

grams

Yellow Moong Dal

200

grams

Tomato

You can use more or less depending on your preference

1

Tbsp

Ghee

Buy Online

10

grams

Ginger

10

grams

garlic

10

Curry Leaves

Buy Online

1/2

Tsp

turmeric powder

Buy Online

1

Tsp

Salt

500

ml

Water

a pinch of hing/asafoetida

Buy Online

Coriander for Garnish

1

Green Chilli

1/4

Tsp

Cumin Seeds

Buy Online

1/4

Tsp

Mustard Seeds

Buy Online
Instructions
Wash the dal thoroughly under some running water in a colander and then add it to a pressure cooker.

Roughly chop the tomatoes and add them to the pressure cooker along with the salt, turmeric powder and water. Pressure cook for about 15 minutes on a medium heat or till the whistle bowls twice.

If you don't have a pressure cooker you can also just boil everything in a pot if you don't have a pressure cooker. You will need to boil it till the lentils (dal) softens. For a silky smooth texture just run the dal through a sieve.

In a small kadai or saucepan heat up the ghee and then add the cumin seeds, mustard seeds, ginger, garlic, green chilli, curry leaves and hing. Once the mustard seeds start popping and the curry leaves crisp up and the garlic is just turning brown pour it out into the dal and mix well.

Finish with fresh coriander and one final good mix. Serve with rice or eat with a spoon.