Few Steps to Make the Best Watermelon Salad | The Easiest Recipe
Horns up, and welcome back to another quick recipe! Today, we'll be making a scrumptious watermelon salad. Not only will it be delicious, but it will also be refreshing and sweet. 
As you all know, I love salads, and I do have plenty of recipes for that on my blog as well. From a Keto Chicken Salad to a Caprese Salad and even a Greek Salad – I have made them all! 
I have had watermelon salads at restaurants and really loved the freshness of them. The flavors were well-balanced, and it was perfect for me. Moreover, my dad used to be a huge fan of these salads back in the day. 
There was also a phase in my life where I used to make them every week and the whole family would enjoy it. I kind of moved over to just eating watermelon  but since I got a giant bag of pine nuts from my trip to Turkey I wanted to make a recipe using them. Now, without further jibber jabber, let's get into the recipe!
What is a Watermelon Salad?
Watermelon and feta is a classic combination and there are many versions of the watermelon salad. It's a fresh salad perfect for summer. I decided to just use a combination of my fav ingredients an what I had available in the house. 
My watermelon salad with feta cheese comes with an olive oil dressing, a balsamic vinegar drizzle, lettuce and roasted pine nuts. 
Besides, this salad was very popular in the 90's as a summer snack or even a picnic meal. Due to the heat, Americans wanted a no-cook yet juicy food option, and they started relying on watermelon salads. 
Why Use Balsamic Reduction? 
Watermelon salad with balsamic vinegar is everything! Look you can take the easy route and just add a splash of the vinegar and sugar to your dressing but when you make a glaze it transforms the salad. The texture and taste of the glaze is amazing. What we are doing is basically concentrating the flavours of the balsamic and balancing it with sweetness. I use honey but you can also use sugar. You are almost making like a caramel sauce that is sweet and still acidic. So this pairs beautifully with the salad. It adds zing in every bite. 
Why Use Roasted Pine Nuts? 
Adding pine nuts to your salad gives it an extra crunch and that delicious nutty taste. Moreover, it also supplies you with healthy doses of protein with every crunchy bite. It brings more density to the salad and turns it into a hearty meal. You can also use walnuts if you don't have pine nuts. 
Are there any Alternatives for the ingredients? 
One of the most versatile recipes you'll find on my channel is salads. Yes, you can never go wrong with the salad toppings or ingredients. For this recipe, I used whatever I had on hand or had access to. There is no real recipe here, you can mix and match. 
Since watermelons are the star of the show, I would suggest keeping them in the recipe. Will this work with other melons like musk melon or honeydew? Probably. But it's a watermelon salad, you got to have watermelon! 
Other than these fruits, you can use cucumbers. The salad needs a nut component so if you can't get pine nuts, you can use chopped almonds or walnuts. 
The dressing is extreme basic, olive oil, lemon, salt and pepper. I'm sure everyone has these in their pantry. Other than that, you can substitute arugula with regular lettuce and skip adding the basil leaves. You can also add cherry tomatoes. 
As an alternative to basil, you can use mint leaves. Perhaps you don't want to make the balsamic glaze at home; well, you can literally buy it at your local grocery store. 
What if you don't want cheese in a salad? Yes, you can skip that, but trust me, feta will make a lot of difference in the taste. But, you can crumble in some cottage cheese instead. The reason we use feta is because it has a big salt hit that balances out the sweetness in the salad. 
Of course, you can whip up your own version of this salad, keeping the basic ingredients as is. 
Pro Tip: You can also add avocados to this recipe. They will add some creaminess. 
Quick and Easy Steps to Make a Watermelon Salad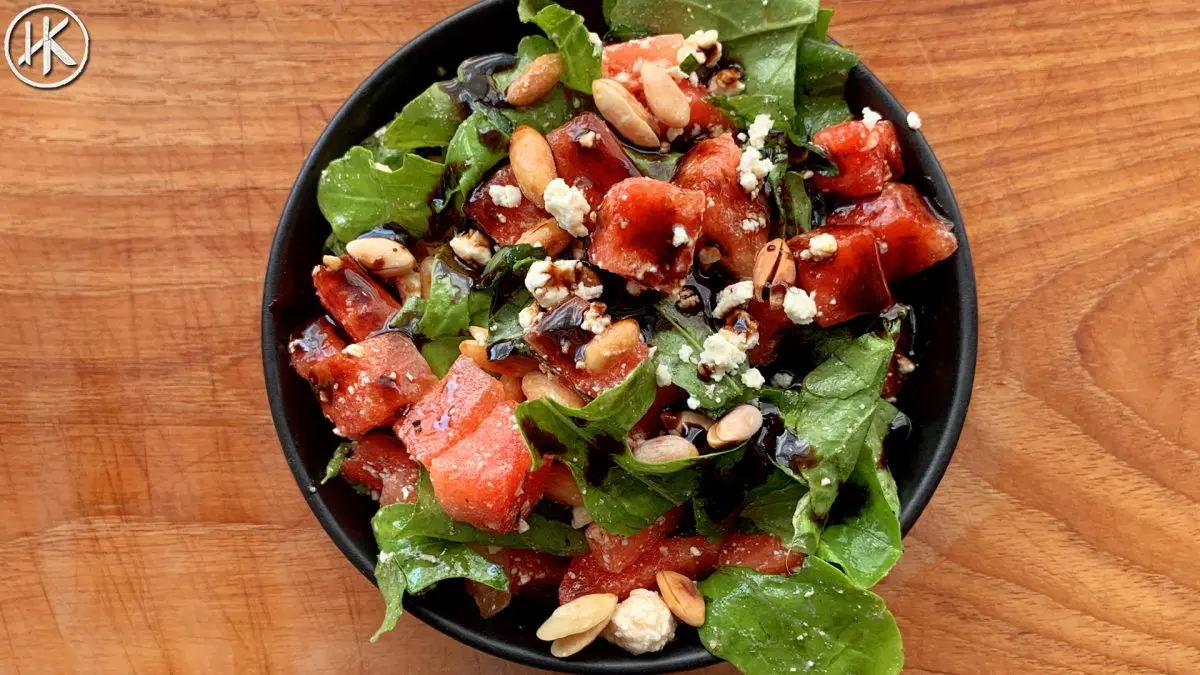 With summer rolling out pretty soon, I believe this recipe would be a perfect snack or meal. I personally love watermelons, especially in this salad form. Not only is it filled with essential nutrients, but it also has very low calories. 
Due to its 90% water consistency, the fruit only has 30 calories for 100 grams. Indeed, watermelon salad with feta cheese is a healthy and tasty recipe. 
Do make this salad at home and enjoy the summer. Let me know in the comments below!
Making the World's Best Watermelon Salad Recipe
Here is a very easy watermelon salad with feta cheese recipe that'll be sweet, nutty and savory. Follow the recipe to make it, and enjoy!
Ingredients
200

grams

Watermelon cubes

30

grams

Pine Nuts

1

Tbsp

olive oil

1

Tsp

Lemon Juice

Salt and Pepper

15

grams

Fresh Basil

50

grams

Fresh rocket/arugula

4

tbsp

Balsamic Vinegar

2

tbsp

Honey

30

grams

Feta Cheese
Instructions
Take your pine nuts and dry roast them in a pan till they are nice and brown. Then, cut your watermelon into bite-sized cubes. Set them aside.

Add some olive oil to a small bowl, with a squeeze of lemon juice, salt, and pepper. Mix well, and this will be your dressing.

Get some fresh basil leaves, roll them together like a cigar and slice it up. After that, take the arugula and roughly tear the leaves. Or, you can give it a rough chop.

Take a pan and put it on the stove. Add balsamic vinegar and honey to sweeten. Mix it and then keep cooking till it gets reduced to a sticky consistency. This syrup will be your balsamic reduction. Once done, set it aside to cool.

Now, it's time to make the salad. In a big bowl, add in your watermelon cubes with the lettuce and basil leaves. Then, drop in your roasted pine nuts and then put in the dressing. Give it all a good mix!

After that, crumble in some feta cheese using your hands. You can then toss everything together with your fingers. Serve it in a bowl and drizzle on that balsamic glaze.

Enjoy a bowl of this delicious salad!