Make beef curry with beef shanks
Who doesn't love a good beef curry? Have you ever had a Korean style curry? It's kind of similar to a Japanese curry in flavour profile. It's something I discovered by accident but it's become one of my go to meals. And the truth is you don't have to use beef. You can make it with chicken of pork too. But trust me the beef takes it to another level.
Now this curry is made using a store bought curry powder or cube. You should be able to find it in most Asian grocery stores. The brand I got is Ottogi. I actually found the packet when I moved into my new apartment which was previously rented by a Korean tenant who had to abruptly leave due to COVID and when he wasn't coming back the landlord decided to rent out the place. We moved in and there was some stuff he had left behind including this 1 kg bag of Korean curry powder. Since it was sealed and hadn't expired we figured it made sense to use it rather than throw it.
That's how I got introduced to this curry powder and then came up with this recipe.
Can I just use curry powder?
This Ottogi curry powder is different. It has other flavour enhancers and ingredients in it. Which is probably why people use it because it's a one stop solution. You don't need any other herbs, spices or even thickeners. But if you can't find this anywhere can you still make this curry? Yes of course. Regular curry powder you get from the Asian grocery store will work. But you will need to adjust as you go along. I'd definitely recommend adding some when you sautee the onion, mushrooms and potato.
Then add some later if you need it. You will constantly need to taste your curry and adjust the seasoning to your liking. You can make a corn flour slurry and add that to thicken the sauce. Or if you are doing Keto then xanthan gum or just skip it. Either way enjoy this curry!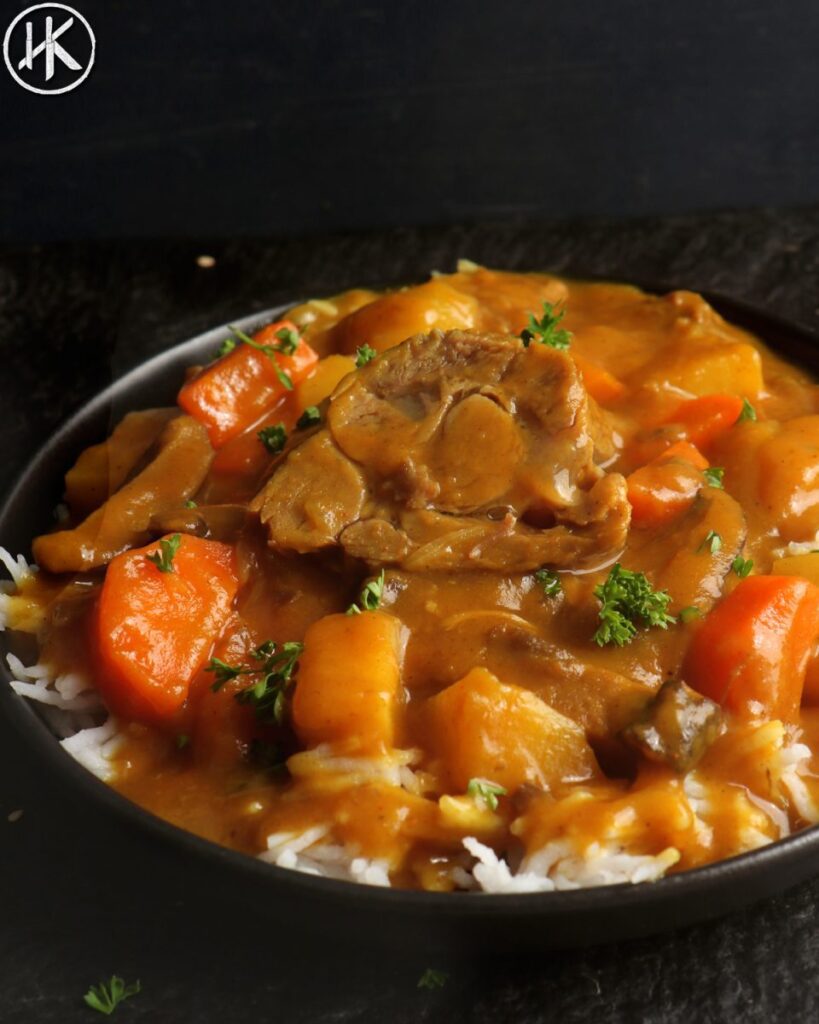 Nutrition Info Per Serving
Calories: 253
Carbs: 24g
Fat: 9g
Protein: 20g
Fiber: 2g
This recipe makes 5 servings. Get the recipe on myfitnesspal.

Start by cutting the carrots and potatoes into small pieces.

Slice the onions sautee style or with the grain. Originally they cut the onions also into chunks like the carrots and potato but I prefer this.

Slice the mushrooms and remove the woody stem before using. Also slice your beef

In a bowl mix the curry powder and water.

In a large saucepan heat up the olive oil and add the onions in.

Sautee till they start getting brown on the edges and then add in the mushrooms.

After a minute or two add the potatoes and sautee for another minute or two.

Now add in the beef stock and turn the heat to medium-low and cover and cook for 10-12 minutes (depending on the size of your potatoes)

Halfway through open the lid and add in the carrots.

Once the carrots and potatoes are cooked add in the curry powder and water mix and stir well

Finally add in the beef and mix gently and cook till the beef is warmed through.

Depending on how thick or thin you like your curry you can either add water to thin it out or thicken slightly by cooking with the lid off