Keto Marry Me Chicken
What in the world is a marry me chicken? Well to be it seems a bit like a Tuscan chicken that went viral. The dish is so impressive that it will have people asking you to marry them once they taste it. While that makes for a great story, is it really that good? Well you see I cooked a lemon pepper chicken for my wife, which was the dish that won her over. Did the marry me chicken top that? Probably not. But was it a great dish? Hell yeah! 
So marriage or not, give this dish a try. It's easy, delicious and will impress your guests one way or another. Check out the recipe now. 
Let's marry flavors!
A simple chicken breast is the perfect vehicle to carry the flavors in this dish. The real star is the sun dried tomato which adds a beautiful acidity to an otherwise rich dish. We're all used to creamy sauces on Keto by now. I mean mix some cream and some cheese and you're good to go. Amp that up with some garlic, chili flakes and dried oregano you got your basic Keto sauce. This sauce would go well over anything. I mean zucchini spaghetti, cauliflower rice or heck even use Keto bread to mop it up. 
Where this really breaks the basics is the sun dried tomato and the fresh herbs. Tomato and basil are a match made in heaven and frankly we could call this heavenly chicken. I threw in a few cherry tomatoes for additional pops of freshness. Now I used sun dried tomatoes brined in oil but you can use the dried ones after hydrating them. Either of them will work.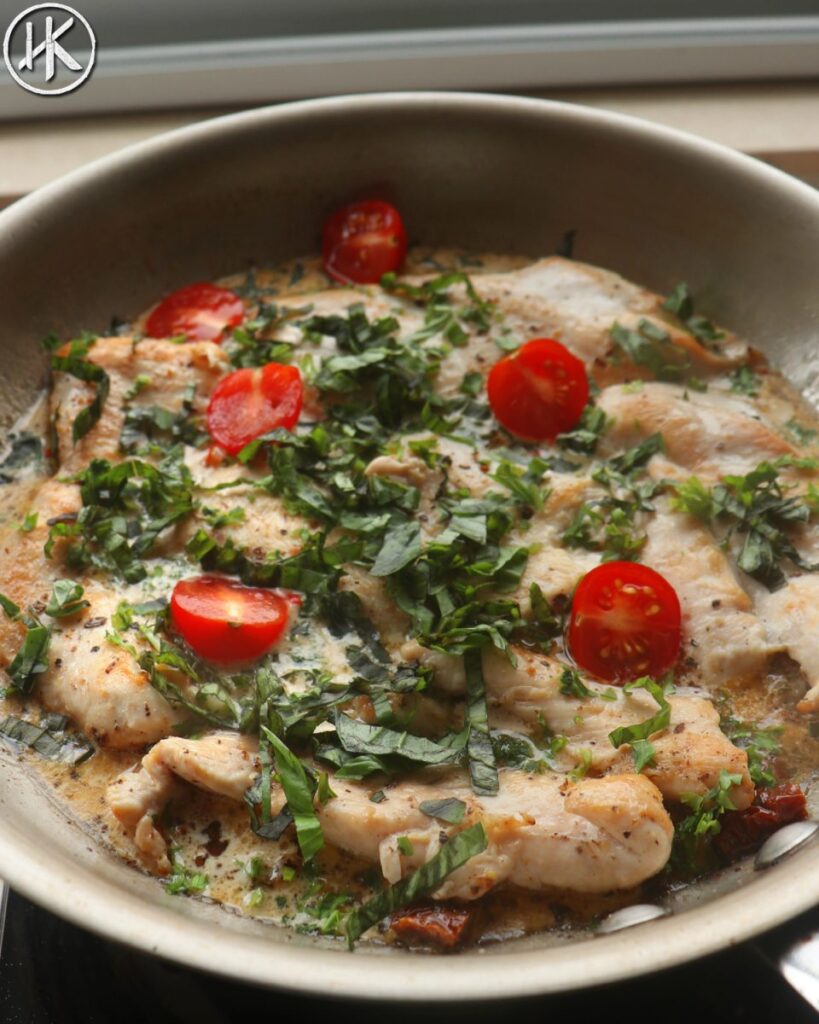 Nutrition Info (Per Serving)
Calories: 384
Protein: 51g
Fat: 21g
Carbs: 6g
Net Carbs: 5g
Fiber: 1g
This recipe makes 3 servings. Find the written recipe on myfitnesspal.com.  Just a heads up, the carb content will vary based on what brand of sun dried tomato you use. 
Marry Me Chicken
A super creamy chicken dish with sun dried tomatoes
Ingredients
450

grams

Chicken Breast

10

grams

garlic

20

grams

Fresh Basil

5

grams

Fresh Parsley

100

ml

Chicken stock

50

ml

Heavy Cream

30

grams

Sun dried Tomatoes

30

grams

Parmesan cheese

15

grams

Butter

15

ml

olive oil

1/2

Tsp

red chili flakes

1

Tsp

Dried Oregano

salt and pepper to taste
Instructions
Start by chopping your garlic and your basil. Then butcher the chicken breast to make cutlets. You cut the tender off the breast and then just cut horizontally to split into 2 even flat pieces. Just like butterflying the breast.

Then season the breasts with salt and pepper on both sides.

Heat half the oil and butter in a pan and once hot fry the chicken. It should take 2 min or less per side depending on the size of the breast. Once they are done remove from the pan.

Add in the left over oil and butter along with the garlic, chili flakes and oregano and cook till the garlic is just starting to brown.

Deglaze the pan with the chicken stock and cook for a minute before adding in the heavy cream and parmesan cheese. Cook for another 30-60 seconds before adding in the sun dried tomatoes.

Give it a good mix and then add in the chicken and let it finish cooking.

Finally add the fresh parsley and basil and give everything a good mix.

Serve with your fav Keto accompaniment.