It's a cauliflower rice risotto
Once again the very nice people at Cambay Tiger sent over some seafood, this time it was prawns. I watch a video of one of my favourite chef, Marco Pierre White where he cooked up a prawns risotto. I found inspiration and decided to make my own Keto prawn risotto. As always we use cauliflower rice, some prawns, some mascarpone cheese and create this wonderful dish. Enjoy!
The balancing act
This dish is all about getting the balance right between the cooking liquid and the rice. Unlike actual rice the cauliflower is going to absorb much less moisture and liquid. The whole idea is to cook the rice in stock. Ideally I would recommend fish stock but since I didn't have any on hand I used mushroom stock. My suggestion is to add the stock slowly and keep cooking it out into the cauliflower rice till it's tender, otherwise you'll get a more soupy risotto at the end. Also keep in mind that the prawns themselves will release moisture when cooked. You can also add spinach to this and you can even do this with chicken. If you want to drop the amount of protein and raise the fat, reduce the amount of prawns and add 1 tablespoon of butter right at the end.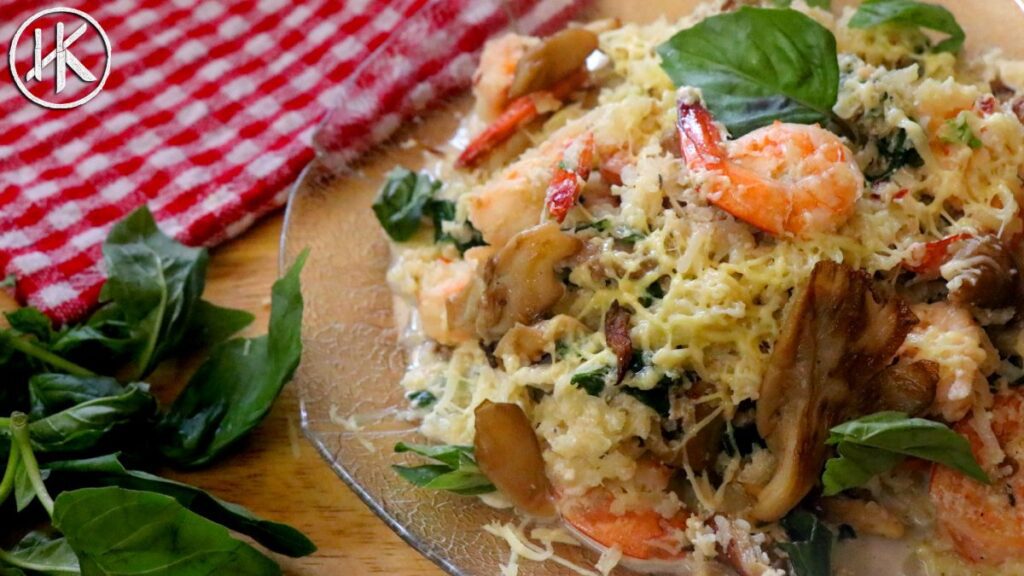 Nutrition Info (Per serving)
Calories: 470
Net Carbs: 8g
Carbs: 13g
Fat: 36g
Protein: 31g
Fiber: 5g
This recipe makes 2 servings. Get this recipe on myfitnesspal.
Keto Prawn Risotto
A rich and creamy Keto risotto
Instructions
Fry the mushrooms in olive oil till they get nice and caramelized. Once done, set aside.

In the same pan heat the olive oil and butter

Add in the cauliflower rice, season with salt and pepper and cook for 2 minutes stirring constantly

Add in the stock and continue to cook for 2 minutes

Season with the oregano, chilly flakes and add in the prawns and cook.

Finish with fresh basil and mascarpone cheese.