A Seafood Paella
Today we're cooking up a Keto Paella, a seafood paella to be precise. I've been wanting to make a Keto Paella for a long time and since I had both prawns and squid in my freeze, there was no better time. I went through a ton of videos and recipes to learn how to make an authentic version. What did I learn? The Spanish are super particular about their recipes, much like the Italians. They are quite particular about what goes into a Paella and what makes it authentic. Anything that doesn't conform to these rules should not be called Paella. Instead these should be labeled 'rice with stuff'.
Which is why, for the record, this is my version of a Paella and it's a Keto version. I'm sorry I can't name it 'rice with stuff' because everyone will search for Keto Paella and not 'Keto rice with stuff'. I will however honour the numerous comments on not using Chorizo in a Paella since that's your version of 'there is no cream in carbonara'. So here is my Keto version of a seafood Paella. Normally they use muscles or clams but since I only had calamari and prawns at home I used that. Anyway enough jibber jabber, time to cook.
How to cook the seafood?
Seafood, especially prawns (small ones) and calamari cook really quickly and it doesn't take much for them to turn into little rubbery bullets. Watching shows like Masterchef Australia have also driven home this point which is why most Paella videos had me confused as they all seemed to cook the seafood for a very long time. Many of the videos had the calamari added to the pan right in the start and cook for a good 15 minutes along with the rice.
Now I had no plans of taking a chance with the seafood which is why I cooked it first and then added it back later. I could have placed the raw seafood on top of the almost done Paella and let it cook but I felt this way it would have more taste and flavour. If you are going to add clams or muscles, those can be added when you add in the chicken stock. This is because they take longer to cook.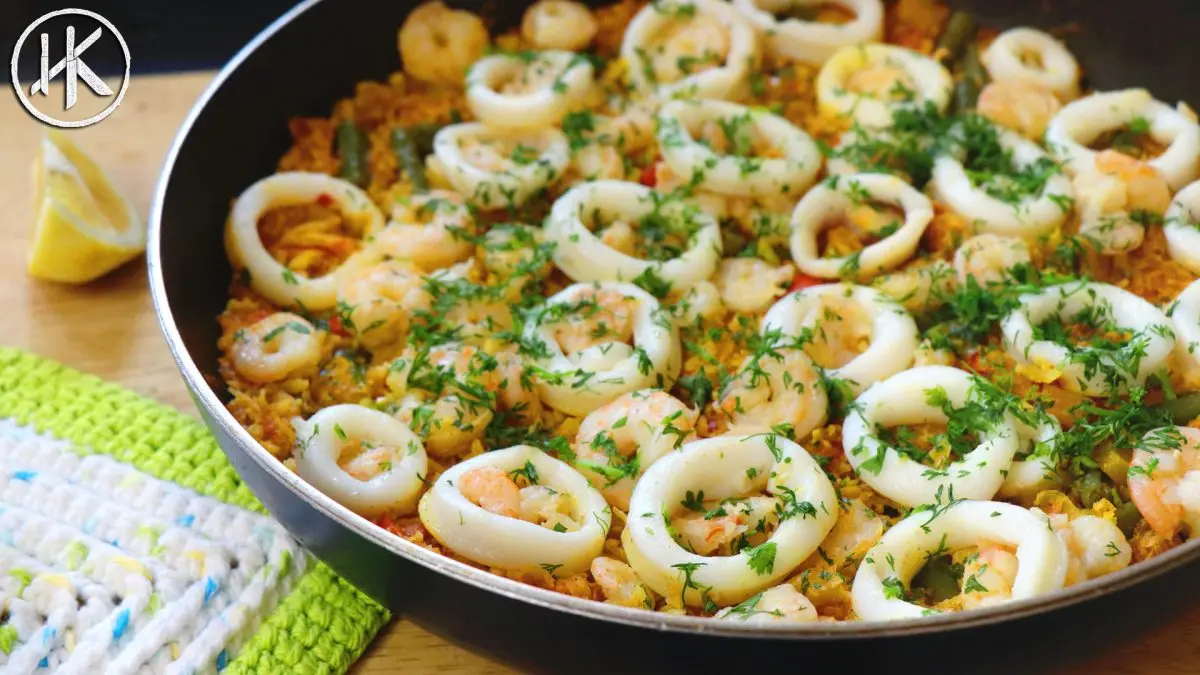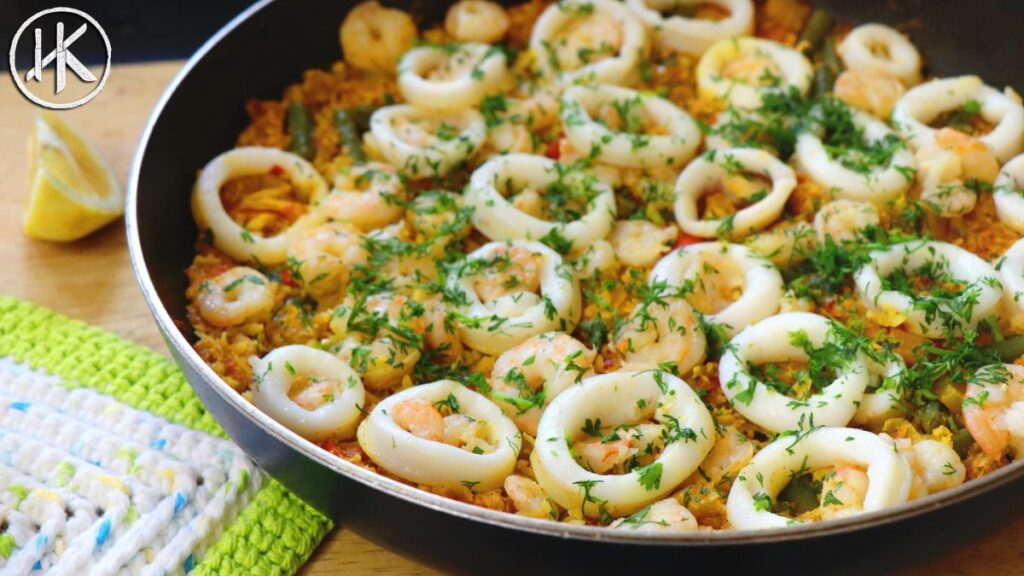 Nutrition Info (Per serving)
Calories: 256
Net Carbs: 9g
Carbs: 11g
Fat: 16g
Protein: 21g
Fiber: 2g
This recipe makes 3 servings. Get this recipe on myfitnesspal.
Now I looked online quite a bit and it seems squid does have carbs in it. I'm not sure how or why. I did find this article that I thought was quite helpful to understand. I personally don't care about the carbs from shellfish. If you do then I'd say you can safely eat a smaller portion or skip it completely. Also I don't care much about fussing about carbs from vegetables. So if you think this is way too many carbs for yourself, eat a smaller portion and add a good amount of olive oil over it.
Keto Paella
A Spanish classic.
Ingredients
300

grams

Cauliflower Rice

300

ml

Chicken or Fish Stock

I recommend this one

150

grams

Prawns

150

grams

Calamari

80

grams

Tomato

Grated

50

grams

Yellow Bell Peppers

Diced

50

grams

Red Bell Peppers

Diced

50

grams

Green Beans

Chopped

50

grams

Onion

10

grams

garlic

1

Tsp

Smoked Paprika

I recommend this one

3

Tbsp

olive oil

I use this one

a few strands of saffron

Order Online

Salt & Pepper to taste

Parsley for garnish

a squeeeze of lemon juice
Instructions
Place the saffron on a small piece of foil and fold it to form a square and toast it for 15 seconds on each side on a hot pan and then set aside.

If you don't have a Paella pan you can use a non stick pan or any kind of frying pan for this.

Season the pan with some salt and add a tablespoon of the olive oil and once the oil is nice and hot throw in the seafood and cook for 2 minutes.

Remove the seafood from the pan and set aside. Add another tablespoon of olive oil to the pan.

Add in the onions and season with some salt and cook for about a minute or so till it starts to turn translucent.

Add the garlic and give it all a good mix and cook for another minute.

When the garlic starts browning add in the green beans, bell peppers, tomato. Also season once again with a bit of salt, pepper and the paprika.

After cooking for about a minute or two add in the cauliflower rice and give it all a good mix.

Add the chicken stock and the safforn to the pan, give it a final good mix and then cover and cook for 5 minutes.

After 5 minutes remove the lid and cook for a further 5 minutes or till all the stock has cooked out and the rice starts to brown at the bottom.

Add all the seafood back to the pan and spread it evenly on top of the rice and then gentle press it down into the rice. DO NOT stir the rice or give it a good mix.

Garnish with parsley and cover and cook for just 1 minute more so the seafood is perfectly cooked through. Then uncover and finish with olive oil and some lemon juice and serve.