Keto Meat Sauce | Keto Bolognese
From Keto meat balls to Keto meat sauce
My previous recipe was a delicious Keto Spaghetti and Meat balls recipe where I used ground beef and ground pork as my choice of protein for the meat balls. Since I purchased 1/2 kg packets and I used half of each meat, I had some left over. I also had some of those canned tomatoes. It was like the ingredients aligned and I knew I had to create the ultimate Keto Meat Sauce/Bolognese/Ragu.
I watched a bunch of videos and figured out the subtle differences between a Bolognese and a Ragu. They come from different parts of Italy, one uses white wine, the other red and they are eaten with different kinds of pasta. After much consideration I realized that the Keto version of both these incredible Italian sauces would be pretty much the same.
So give it a try, it's great to cook in a big batch as it freezes really well. You can use it in many ways, perhaps just poured over some zucchini noodles or cauliflower rice, maybe make a lasagna with it or maybe just substitute it for the marinara sauce in my eggplant Parmesan or eggplant involtini recipe.
The finer details
You can substitute the pork and beef for a single meat of your choice. Alternatively you can use lamb and chicken as well for this recipe. To up the fat content even more you can use ground meat with a higher fat %. I am unable to do this due to the only lean meat being available here in India. Also you can skip the cream and use coconut cream for a dairy free version, just remember it won't taste the same and don't call it a ragu or a bolognese.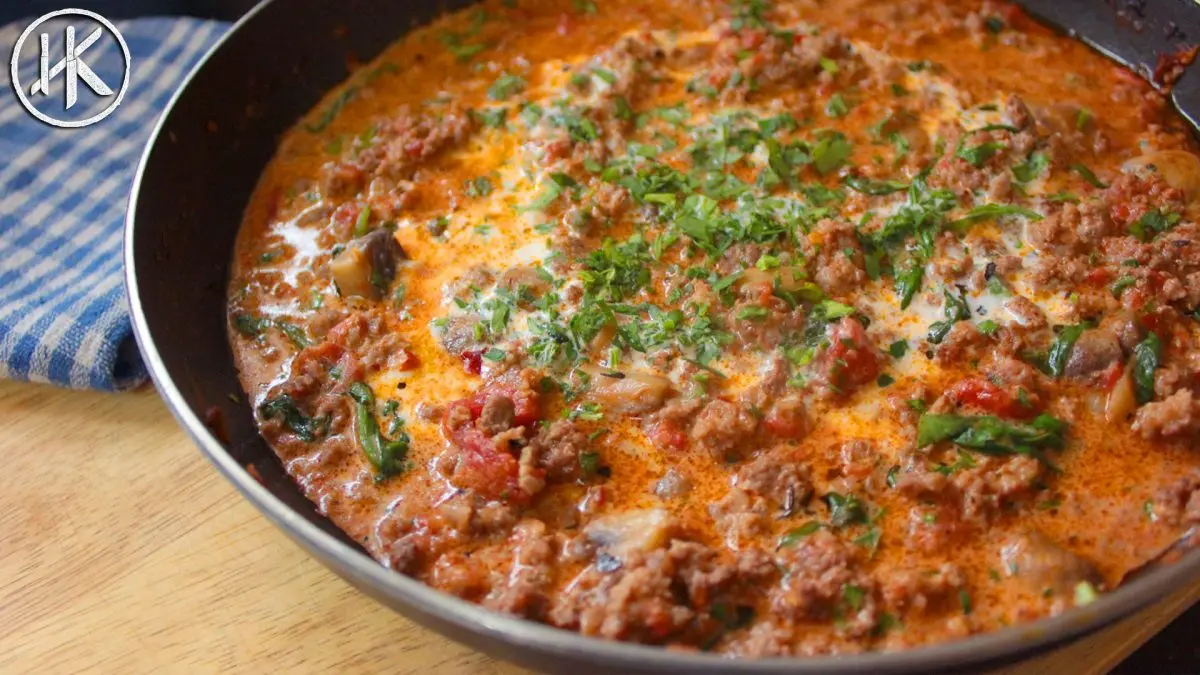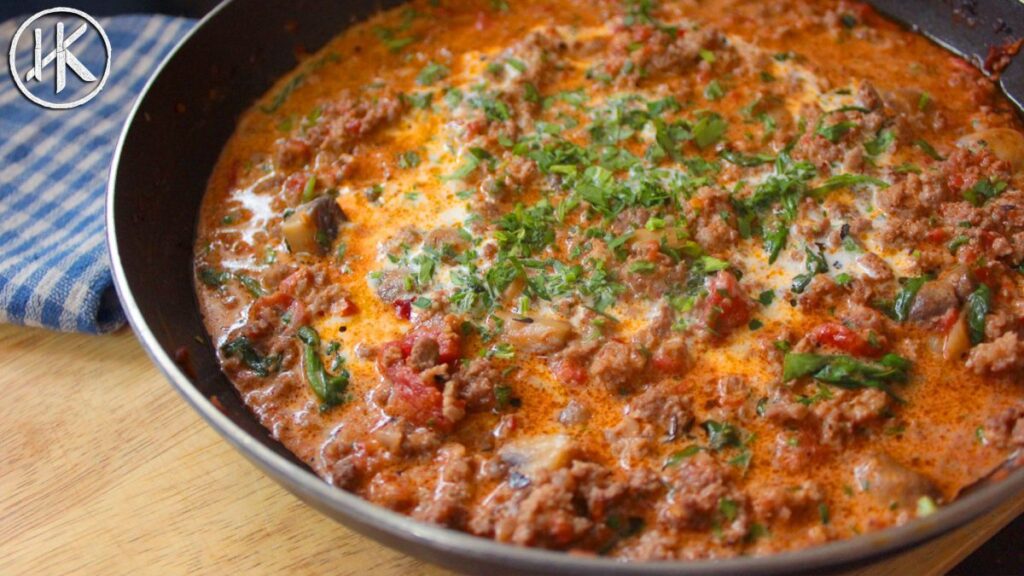 Nutrition Info (For 1 serving)
Calories: 289
Net Carbs: 3g
Carbs: 5g
Fat: 22g
Protein: 18g
Fiber: 2g
This recipe makes 6 servings. Get this recipe on myfitnesspal.
Keto Meat Sauce | Keto Bolognese | Keto Ragu
Flavoured ground meat cooked in a rich tomato sauce. Perfect for all kinds of dishes or even just on its own.
Ingredients
250

grams

Beef Mince (Ground Beef)

250

grams

Pork Mince (Ground Pork)

50

grams

Red onion

100

grams

Tomato

50

ml

Water

10

grams

garlic

100

grams

White Mushroms

100

grams

Baby Spinach

100

ml

Heavy Cream/Double Cream

5

grams

Chopped Parsley

1

Beef/Chicken Stock Cube

I recommend this one

Few springs of thyme

Fresh or Dried Oregano

Try this one

Red Chilli Flakes

Salt & Pepper to taste

15

grams

Butter

15

ml

olive oil
Instructions
Heat up the olive oil and butter in a frying pan

Grate the red onion and add to the pan and cook till translucent

Add in the beef and pork mince and stir well breaking up the meat and not letting it lump up

Season with salt, pepper, chilli flakes and dried oregano

Add in the fresh thyme and garlic and cook down. Then chop and add the mushrooms to the pan.

Add the tomatoes and water and season with the stock cube. Cover and cook for 15 minutes

Keep checking the sauce and making sure nothing sticks and that there is enough liquid. Add water if needed

Once nearly done add the spinach and cover and let them wilt for 1-2 minutes

Stir in the spinach and finish with the heavy cream and the parsley

Enjoy!