Grilled Chicken in a Creamy Mushroom Sauce
A Keto grilled chicken with awesomesauce!
I had a bunch of chicken breasts lying in my freezer so I decided to make a nice pan grilled chicken and a delicious creamy and cheesy mushroom sauce to go with it, flavoured with thyme. This recipe is quick, easy and perfect to make when you are home alone or dining solo. It takes less than 15 minutes to make and there is almost no prep as well. Enjoy this meal for one!
It's a technique more than a recipe
This is really all about just using basic cooking techniques to make simple and delicious food. This entire recipe can be turned around to suit what you have lying in the fridge. Instead of chicken you can swap the protein for beef, pork or fish. If you are a vegetarian, paneer is your friend or even eggplant. The whole idea is to pan fry the protein and deglaze the pan to create a sauce. It's a pretty simple process. You can use any herbs you like. I would use rosemary if I was making this dish with beef or perhaps some tarragon if I was using fish. I'd love to hear what you created using this recipe as your template. Leave me a comment and let me know.
Pay attention to the cream
If you live in India and have decided to use Amul cream keep in mind that when heated it can split. So turn off the heat and add the cream like I did in the video. If you live in American or the UK or anywhere else, chances are you will use heavy cream or double cream. These are far more 'fluid' in consistency and can be heated so feel free to add it to your dish and reduce the sauce down till it's the consistency you want.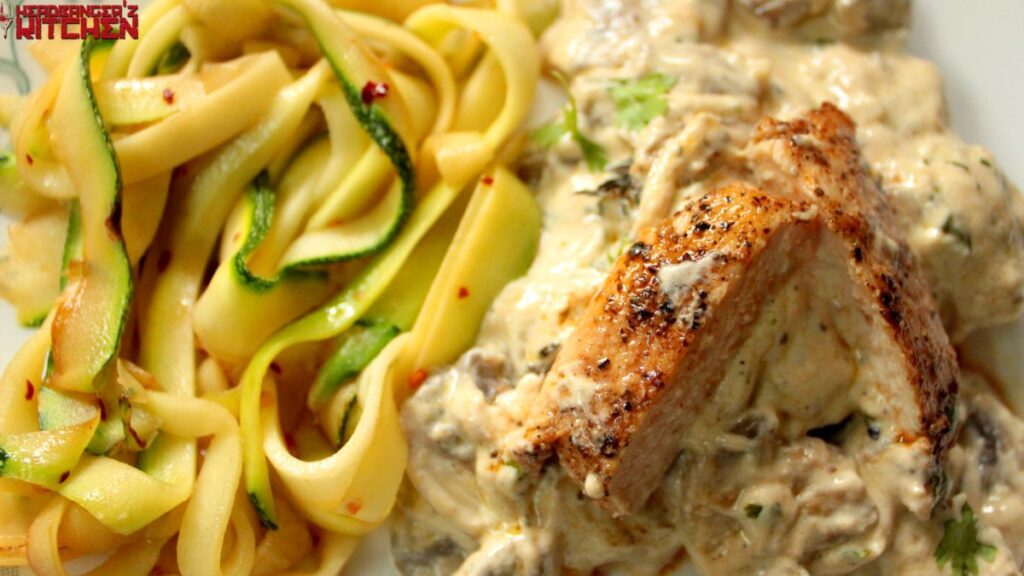 Nutrition Info (Per serving)
Calories: 302
Net Carbs: 4g
Carbs: 5g
Fat: 27g
Protein: 10g
Fiber: 1g
This recipe makes two servings. Get this recipe on myfitnesspal.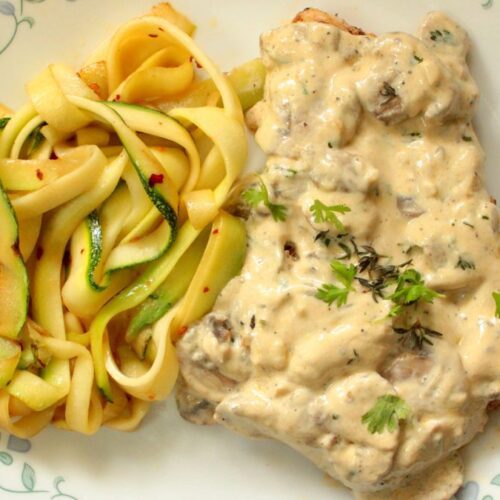 Grilled Chicken in a Creamy Mushroom Sauce
A delicious keto grilled chicken with a creamy mushroom sauce.
Ingredients
2

Skinless Boneless Chicken Breasts

100

grams

White Mushrooms

60

grams

Cheese

100

ml

Cream

2

Cloves of Garlic (Minced)

Fresh Thyme

Salt & Pepper

1

tbsp

Butter

Try this one

1

tbsp

olive oil

I use this one

1/4

Tsp

Paprika

I recommend this one

Parsley
Instructions
Butterfly the chicken breasts and season with salt, pepper and paprika on both sides.

Heat the olive oil in a pan and fry the chicken for 2 minutes of each side on a high heat.

In the same pan add the butter and mushrooms, season with salt.

Add in the thyme and garlic and cook till the mushrooms release their water.

Add in some water along with the cheese

Once the cheese has melted add in the cream, turn off the flame and mix till all well combined

Finish with fresh parsley

Slice the chicken, pour over the sauce and serve!