Cooked in a creamy mustard sauce
When it comes to food, Youtube has always been a source of inspiration because of the number of food videos. I chanced upon this Munchies video for mustard braised chicken which inspired this recipe. It's super simple and delicious. I previously had made pork chops in a creamy mustard sauce, which is fairly similar. I've mentioned before that chicken in supermarkets are normally sold without skin so I had to make a quick trip to my butcher to get some nice skin on chicken thighs.
This recipe is also amazing for meal prep and you can easily just double or even triple it. Throw in some steamed broccoli or spinach with it and you've got yourself a well balanced Keto meal. Anyway enough jibber jabber, lettuce cook.
Fish and Pork will do too!
If I am being honest this is a rather basic recipe and the protein is easily replaceable. You can swap out the chicken for pork or fish. Like I said I made a similar dish with pork chops and this would work well with some salmon with nice crispy skin. This recipe can also be made vegetarian. The most obvious choice would be paneer as the protein but you could also use something more hearty like thick eggplant slices, maybe cauliflower steaks or even zucchini. Most of my recipes are meant to be tweaked to suit your dietary needs. Bon Appitite.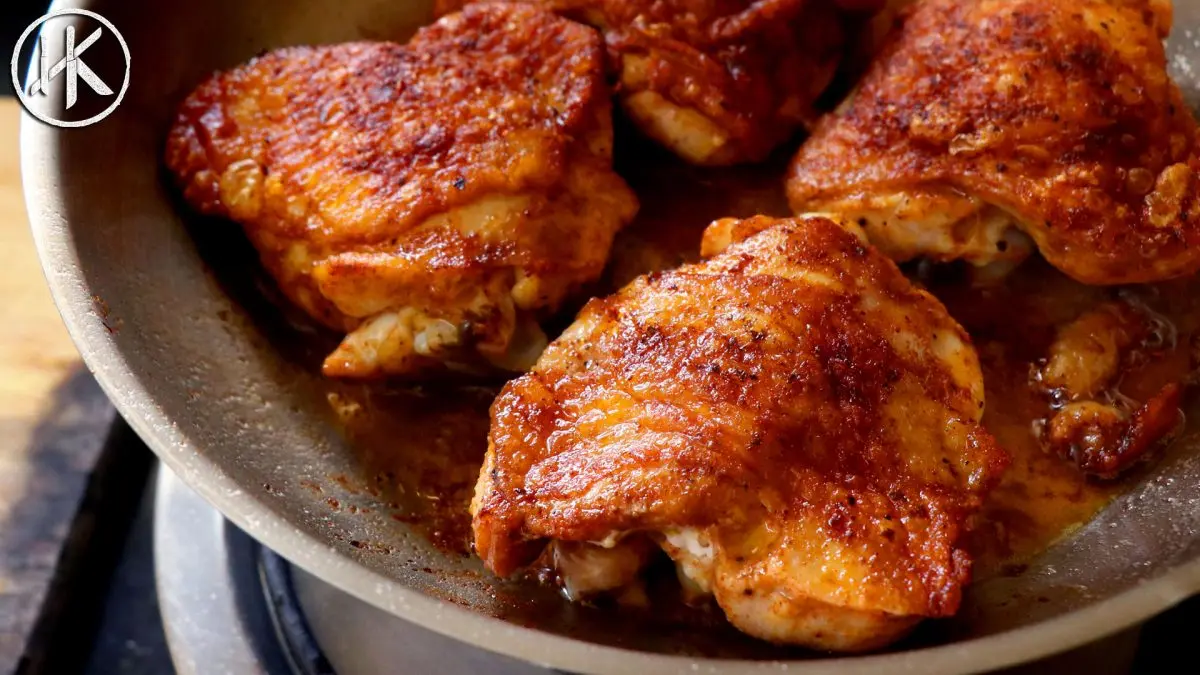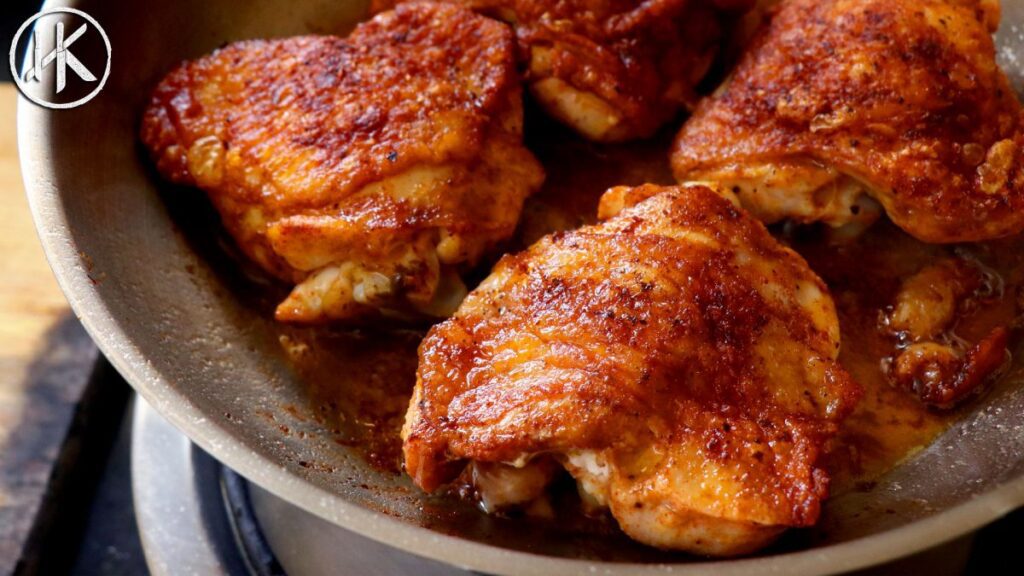 Nutrition Info (Per serving)
Calories: 546
Net Carbs: 5g
Carbs: 6g
Fat: 41g
Protein: 39g
Fiber: 1g
This recipe makes 2 servings. Get this recipe on myfitnesspal.
Keto Chicken Thighs
Chicken thighs cooked in a delicious creamy mustard sauce
Instructions
Season the chicken thighs with salt, pepper and paprika on both sides.

Heat a stainless steel pan and add in the olive oil when hot. Then place the chicken thighs skin side down in the pan. Make sure the heat is medium/high.

After about 4-5 minutes flip the chicken pieces over, the skin should be nice and crispy. Cook for a further 2 minutes and remove from the pan.

In the same pan add the butter and once it melts add in the chopped red onion and the garlic (chopped as well) and cook till translucent and soft.

Deglaze the pan with the white wine vinegar and the chicken stock. Add in the mustard and stir well till it forms the base of the sauce.

Add in the chicken pieces skin side up and cover and cook for about 8 minutes.

Remove the thighs and stir in cream and parsley to finish the sauce and then serve with the thighs.