Have you ever tried chicken adobo?
When I say Filipino cuisine, what's the first dish that comes to mind? 
I'd wager a good chunk of my earnings that it's chicken adobo. Or just adobo. 
Of course, there's so much more to Filipino cuisine and their vast and varied heritage – I can only dream of tasting lechón, who roasted pig, some day – but it's adobo that seems to have really made its way around the world. 
So, of course, I had to attempt a Keto Filipino chicken adobo recipe.
I myself have never eaten any Filipino dishes because it's just not available here in India, but bastardized versions of adobo have made it to restaurants here. 
Usually it's a terrible take on a vaguely Chinese sauce with a bit of vinegar thrown in. 
But real adobo is beautiful in its simplicity – it's simply any protein marinated and then cooked down in vinegar, soy sauce, garlic, bay leaves and black pepper. 
It's zingy, umami, sour, and slightly sweet because of palm sugar. In a word, it's delicious.
Does it have to be chicken?
Of course not. Adobo is a method of preparation, and the marinade, so you can use any protein to go with it, from pork to beef, even quail and goat. Each region of the Philippines has its own take on the adobo, using local ingredients. And you can even just simmer vegetables in it for a tangy side that you can serve over cauliflower rice. Some versions of adobo will also use onion which I chose to leave out since I didn't want to add any more carbs to this dish.
And one of the defining characteristics of adobo is that it keeps for a long time because of the addition of vinegar and soy sauce. In fact, it was a dish made for long journeys and travels because it would keep so well, which is great for Keto because you could easily fit this into meal prep for a week. The dish is already low-carb but you can lower net carbs by replacing the soy sauce with coconut aminos if you want to take the carb count even lower. Of course, if you want an authentic flavor, use local Filipino soy sauce and cane vinegar, but in a pinch apple cider vinegar and regular soy sauce will work just as well. Use tamari sauce if you want to be gluten-free.
Pans and cookware
If you do have a trusted non-stick pan for this recipe, go ahead and use it. I tried using an enamelled cast-iron skillet and let me tell you, cast iron and chicken skin are not friends. If you want to save yourself the pain of having to scrape chicken skin off, either use skinless chicken thighs or a non-stick pan. You can also reduce the fat by varying the amount of fat accordingly, because chicken skin will render out some fat. Also make sure you use a large frying pan so you can fit all the chicken in.

Ingredient swaps and tips
Cooking oil
While I've used avocado oil to make this you can use olive oil, coconut oil or any Keto approved cooking fat. I used chicken thighs in this recipe but you can also use drumsticks. I don't recommend chicken breast meat but it can be used as well.
Meat
If you're using chicken breasts, fry off the garlic and aromats in the oil, add in the soy sauce and vinegar, reduce down the sauce, then add the chicken because it will cook very quickly.  Unlike the dark meat the breast meat will get tougher the longer you cook it so to ensure the meat is tender you don't want to cook it too long. Alternatively you can first sauté the breasts in the pan and then follow my earlier instructions. Once the sauce is ready throw the meat back in and cook till all the meat is fully cooked and well coated in that sauce.
Spices and herbs
Now for the adobo the bay leaves, whole peppercorns and garlic are very important to add flavour and you can remove them before serving but I'd advise against it. The garlic cloves themselves will be soft and melt in your mouth. Because you literally boil them and the peppercorns till they are soft you can eat them. It's quite something to get that hit of pepper when you bite into the peppercorn.
The green onions are mostly for garnish and you can skip them but they hardly have any carbs and add a lovely bit of freshness to the dish.
Sweetener
Palm sugar or sometimes brown sugar is used in the adobo for a bit of sweetness to balance the dish. However since that's no good on Keto I used stevia but swerve, Sukrin gold or any other Keto sweetener is acceptable.

Other recipe ideas
What's great about this Filipino adobo is you can use the meat for various other dishes. If you have leftovers shred the meat, pour the sauce right over and use it for other meals. You can use it in your soups, maybe make some Keto potstickers, perhaps adobo chicken tacos or just add it to your salad.  Basically having the cooked chicken is a great time saver in the kitchen.
Cooking Time
While the size of chicken varies across the world I feel people often over cook chicken. Granted the dark meat is more forgiving but it doesn't take 45 minutes to an hour to cook. I think about 20 minutes is more thank sufficient cooking time for chicken thighs.
But what is you want to use a pressure cooker or make an instant pot chicken adobo? Well it's definitely do able. I'd throw all the ingredients into the instant pot or pressure cooker and then cook for about 10 minutes. That's all the time it should take for chicken thighs. Once the pressure is released open the lid and then sautee till the liquid in the cooker thickens up and you get that nice syrupy sauce.
Nutrition Information (Per serving)
Calories: 273
Net Carbs: 4g
Carbs: 5g
Fat: 20g
Protein: 27g
Fiber: 1g
This recipe makes 6 servings.  Each serving is 1 thigh plus some sauce. Get this recipe on myfitnesspal.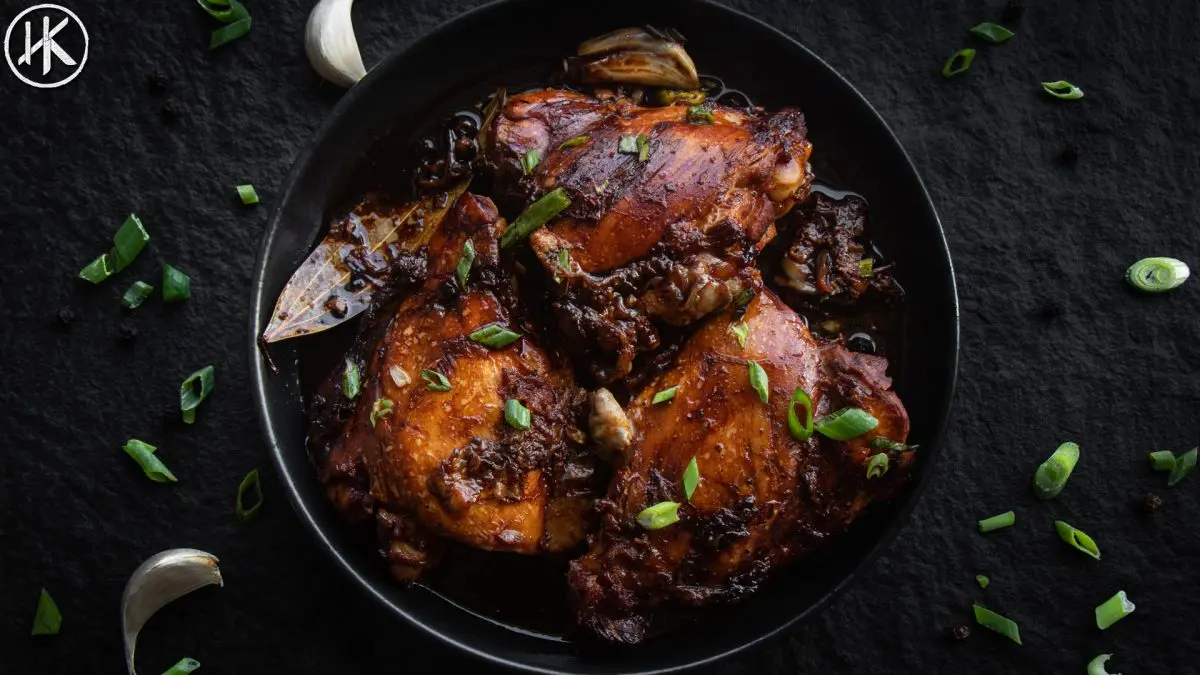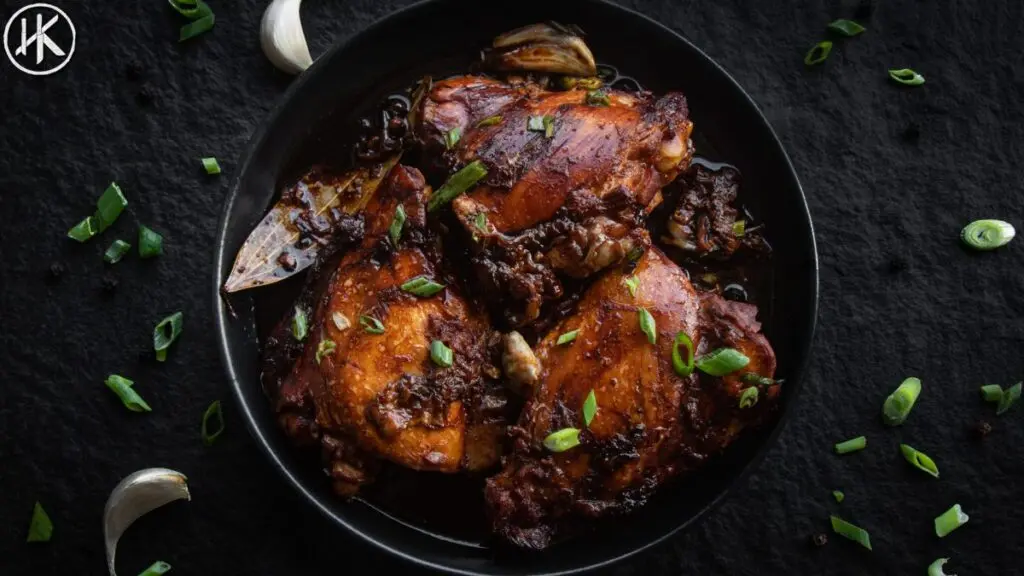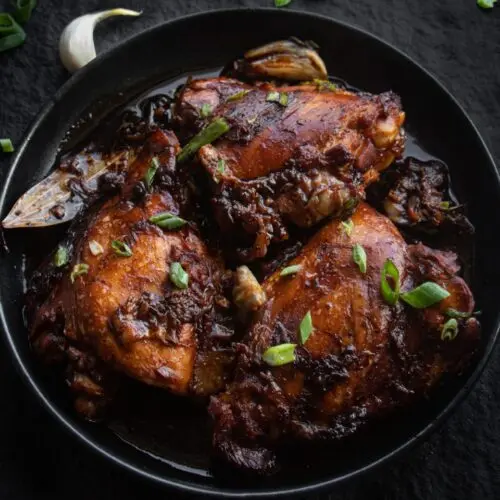 Keto Chicken Adobo
A Keto version of a classic Filipino chicken adobo
Ingredients
6

Chicken Thighs

Bone in and Skin On

1/2

tbsp

Avocado Oil

8

cloves

garlic

I used small cloves

1/2

tbsp

Whole Black Peppercorns

4

small bay leaves

1/2

tsp

Black Pepper Powder

60

ml

dark soya sauce or coconut aminos

80

ml

cane vinegar or apple cider vinegar

2

tsp

Keto sweetener

1:1 sugar substitute

spring onion greens for garnish

salt as needed
Instructions
Get a large, deep skillet on the stove and add a good glug of oil to it. I'm using avocado oil.

Once the oil is hot, place your chicken thighs in the pan skin side down. Let the chicken cook till the skin is crispy, about 3-4 minutes.

Using the flat of a knife, smash the eight cloves of garlic.

Flip the chicken over and add in the aromats – the smashed garlic, the whole bay leaves and peppercorns – and let everything fry till fragrant, about a minute or two.

Deglaze the pan with a splash of water, then add in the black pepper, soy sauce and apple cider vinegar and give it all a good mix. Flip the chicken again and let everything come to a boil.

Cook the chicken for about 10 minutes, flipping the pieces halfway through.

Check the seasoning in the sauce, then add about two teaspoons worth of Keto sweetener. You may need to adjust this depending on the sweetener you're using, so taste, taste, taste before adding any more.

After your 10 minutes are up, remove the chicken from the sauce, and let the sauce continue reducing. You want it to become a sticky, syrupy consistency.

Once the sauce is reduced, add the chicken back in and flip it a few times till it's completely basted and bathed in that sauce. Finish with some spring onion greens and serve over plain cauli rice.