Not a roast chicken
This easy roast chicken is not a roast chicken. Growing up in India my idea of roast chicken was different. At home we made a full chicken (pre cut) in a wok with soya sauce, Worcestershire sauce and some other things. There was no crispy skin, there was no oven involved but it was still roast chicken. I guess a lot of it has to do with Indians not cooking with ovens at home. And also the fact that we just don't use chicken with skin. Even in restaurants roast chicken would be chicken leg or breast with bone and a brown sauce.
Of course that was in the 80s and early 90s. Now Indian has a vibrant food scene comparable to anywhere in the world. Roast chicken now means a roast chicken with crispy skin and gravy and the works. But I'm going to show you my updated version of mom's roast chicken.
Adding that Asian flair
I ate this chicken on my Athlean X Food Challenge. That's where I tried to lose weight without counting calories. I ate it without some of the garnishes that I used for this recipe video. Mainly the sesame seeds and the green onions. I would suggest you don't skip them because they really do elevate the dish. Mom's original never had sesame oil and it probably had some honey but I can't recall correctly. Either way I think adding that sesame oil definitely ties in all the Asian flavours together.
Nutrition Info (Per serving)
Calories: 209
Carbs: 2g
Fat: 7g
Protein: 32g
Fiber: 0g
This recipe makes 3 servings. Get this recipe on myfitnesspal.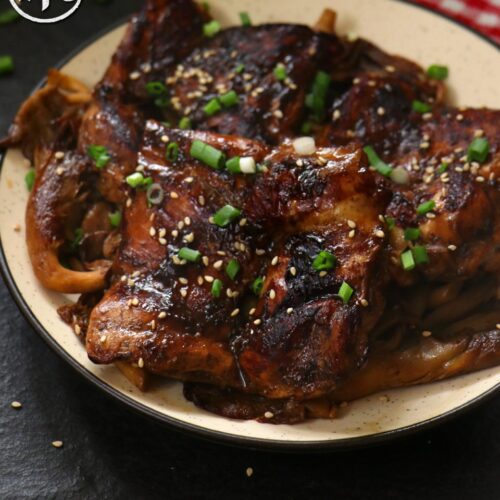 Easy Roast Chicken
Not a roast chicken
Ingredients
500

grams

Boneless Chicken Leg and Thigh Meat

1

Tbsp

Worcestershire sauce

1

Tbsp

Soya Sauce

1

Tsp

Sesame Oil

1/2

Tsp

Black Pepper

1/2

Tsp

Salt

1/2

Tsp

Sesame Seeds

1

Green Onion

200

grams

Mushrooms

Optional
Instructions
Marinate the chicken with the Worcestershire sauce, soya sauce, pepper and salt. Let it marinate for at least 30 minutes if not longer.

Heat a non stick pan on the stove and once hot place the chicken in. Cook for 2-3 minutes on a high heat till the chicken gets a nice char on it and then flip over.

Pour any remaining marinade into the pan and turn down the heat and let the chicken cook for about 4-5 minutes. Flip it over and cook for another minute or two and then remove from the pan once fully cooked.

In the same pan add the mushrooms, season with salt and also add some water to deglaze the pan. You can also use green beans or broccoli or any vegetable you like. Basically we want to use up all the good bits in the pan.

Then add the resting juices from the chicken back into the pan and cook till all the liquid evaporates and the mushrooms are nicely caramelized.

Serve them together and garnish with the sesame seeds and chop the spring onion and sprinkle all over.