Homemade Chicken Curry
This is an easy chicken curry to make. It's not got a lot of spices or ingredients. It's also fairly low fat because I use chicken breast but if I'm being honest, make it with chicken on the bone. It adds a whole other level of flavour. But if you're being super strict, trying to hit those protein macros, then this is it! I wanted to change up the menu during my Indian food challenge and I replaced my boiled egg + masala with this curry. It was definitely a winner!
Make it Keto
Now given that this is a simple chicken curry recipe it's pretty much already low carb. In fact if you eat it with some high fat side dishes it's also Keto. But you can make this recipe even more Keto friendly simply by making a few small changes. Keep in mind that this will also make it more calorie dense. Swap out the breast meat for chicken thigh or drumsticks. You will also want to be more generous with the cooking fat.
You can also add a dollop or two of butter on the top or right at the end to finish it. There is the option of using heavy cream or coconut cream. Both will add a richness and up the fat macros too. So I hope you will try this no matter what diet you are on.
Nutrition Info (Per serving)
Calories: 203
Carbs: 6g
Fat: 5g
Protein: 40g
Fiber: 5g
This recipe makes 4 servings. Get this recipe on myfitnesspal.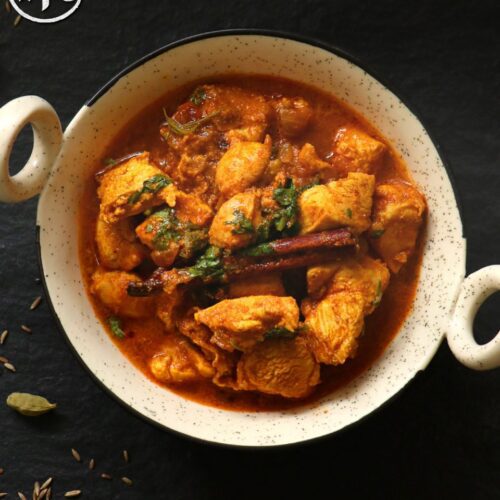 Easy Chicken Curry
Ingredients
500

grams

Chicken Breast

100

grams

Onion

100

ml

Tomato Puree

You can also use fresh tomato

10

grams

Ginger Garlic Paste

Buy Online

60

grams

Yogurt (Dahi)

1

Tbsp

Ghee

Buy Online

1

Tsp

Salt

1/2

Tsp

Tumeric

Buy Online

1

Tsp

Red Chlli Powder

Buy Online

1/4

Tsp

Garam Masala Powder

Buy Online

1

Tsp

Coriander Powder

Buy Online

1

Tsp

Cumin Power

Buy Online

Handful of fresh mint leaves

2

Cinnamon Sticks

3

Cloves

2

Green Cardamons

2

Black Cardamons

Water as required

Coriander for Garnish
Instructions
Cut the chicken breasts into small bite size pieces. Then in a large bowl mix together the yogurt, ginger garlic paste, salt, tumeric, chilli powder, garam masala powder, cumin powder and coriander powder.

Then add the mint leaves and the chicken to the marinade and mix well. Leave to marinade overnight or at least for 30 minutes.

Then heat up the ghee in a saucepan or frying pan and add in the cinnamon sticks, cloves and green and black cardamons and fry till fragrant. Then add in the onions and cook on a low/medium heat for about 10 minutes

You want to cook the onions slow and slow till they start turning golden brown. This process takes time and you can occasionally throw in some water, mix everything and cook the water out and then repeat this process till you get a nice brown onion jam like mixture.

Then add in the tomato puree along with some water, mix well and cover and cook for 6-7 minutes.

Once done you'll get a nice thick tomato sauce. Add the chicken into this and turn the heat up to high. Cover and cook for about 3 minutes.

Then add some water (depending on how much curry sauce you want) and mix well. Check that the chicken is cooked by cutting a piece down the middle, it should be white and firm but still juicy.

Turn off the heat and then finish with the coriander.

Serve with a nice hot roti or some steamed rice.