2 Ingredient No Churn Ice Cream
Nutella – Oreo – Coffee Ice Cream
I would have never in a million years thought I could or would end up making ice-cream at home. Full credit to my wife Deepti who taught me this recipe and showed me this incredible recipe of how to make ice cream at home without a machine and with just 2 simple ingredients. The simplicity of this recipe is quite something else and it's the perfect base to build your favourite ice cream flavours on. For this video I made 3 of my personal favourites, a decadent Nutella ice cream, the classic Oreo cookie ice cream and a coffee flavoured one.
2 Ingredient No Churn Ice Cream
It's really awesome how easy this ice-cream is. A world of flavours and possibilities is now open before you. I myself got creative and made an Old monk ice-cream using this very recipe. Leave me a comment and tell me what flavour of ice cream you will make with this recipe. I'd love to know.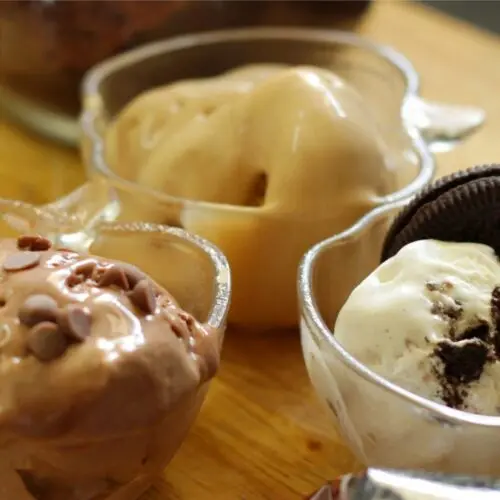 2 Ingredient No Churn Ice Cream | Nutella - Oreo - Coffee
An super quick and easy no churn ice cream recipe
Instructions
Whip the cream to stiff peaks and add the whipped cream and mix till well incorporated.

Coffee Ice Cream - Mix instant coffee/espresso powder with the condensed milk and add to the whipped cream

Nutella Flavour - Mix the condensed milk with coco powder and Nutella - Add to whipped cream and mix till incorporated.

Oreo Cookie - Fold in vanilla extract and cookies into the whipped cream and condensed milk mixture.

Freeze overnight for best results.