A Keto fish recipe
High fat has never been easier to achieve than with a lemon butter caper sauce poured over your favourite fish fillet. This recipe uses a generous amount of butter and will help you hit all your fat macros. Fish also lends itself beautifully to this sauce since it's a nice light meat and the lemon and fresh parsley help cut through the richness of the butter. Even this is a rather simple dish it's extremely 'posh' and perfect when having friends over for dinner.
Cutting the carbs
This recipe has about 7 grams of net carbs and depending on your macros and goals it might be on the higher side. The best way to reduce these carbs is to drop the onions and garlic quantities by half. I think since I'm more of a cook by intuition kind of person I might have had more onion and garlic than needed to have a more flavourful sauce. So you can adjust those to suit your requirements. You could even skip them completely and still have a nice tasty sauce.
Love seafood? Well we've got a bunch of recipes on the website that will absolutely hit the spot them. I've done a yellow Thai curry with fish, Keto fish cakes, tandoori prawns, butter garlic squid and the list goes on. Explore the website and find the recipes you love.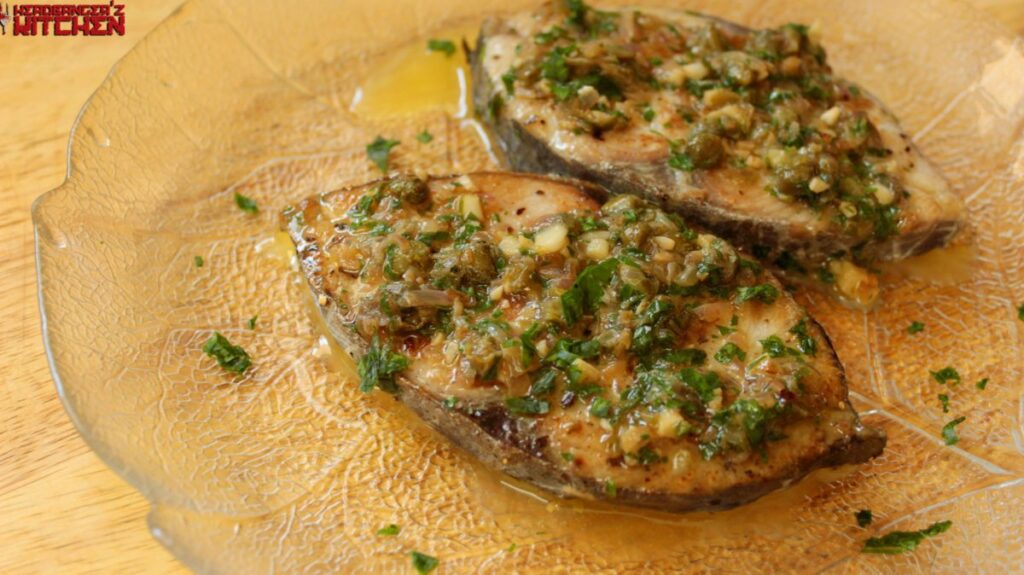 Nutrition Info (Per serving)
Calories: 392
Net Carbs: 7g
Carbs: 9g
Fat: 32g
Protein: 18g
Fiber: 2g
This recipe makes 2 servings. Get this recipe on myfitnesspal.

250

grams

Fish

fillets or with bone, your choice

80

grams

Butter

15

grams

Capers

I use these

50

grams

Small Red Onion

10

grams

Cloves of Garlic

5

grams

Parsley

15

ml

olive oil

I use this one

Lemon or Lime Juice

Salt and Pepper
Season the fish with salt and pepper and pan fry till cooked

Add onions to the pan and cook till residual oil is used up.

Add butter and cook for 1 minute before adding the garlic

Add in the capers and break them up with the spatula.

Add in the parsley, more butter and cook.

Turn off the gas, add the final part of butter and a squeeze of lime.