Keto Tomato Soup
We're cooking up a 3 ingredient tomato soup. This recipe is low carb and Keto friendly. There is often a debate on whether or not tomato should be eaten on Keto but unless you are part of the Keto police, I say you can eat them. As an Indian I have fond memories of eating tomato soup on long overnight train journeys. So for me it's not just a cup of soup but a cup of nostalgia. But if I'm being honest with my evolved taste buds I'm not sure I'd enjoy the soup as much today.
But I do love this tomato soup because we roast our veggies to bring out the natural sweetness and really pack loads of flavour into the soup.
Dairy Free?
You can make this soup dairy free if you like by swapping out the cream for coconut cream. Alternatively you can skip any cream altogether and enhance the flavour with a veggie broth. There are plenty of things you can do with this recipe. Some toasted nuts on top for a bit of crunch maybe?
I love building layers of flavour into dishes and this one is simple enough if you don't have loads of time or ingredients. I do have a bit more elaborate tomato soup recipe if you have time and energy to prepare it. But definitely try this one.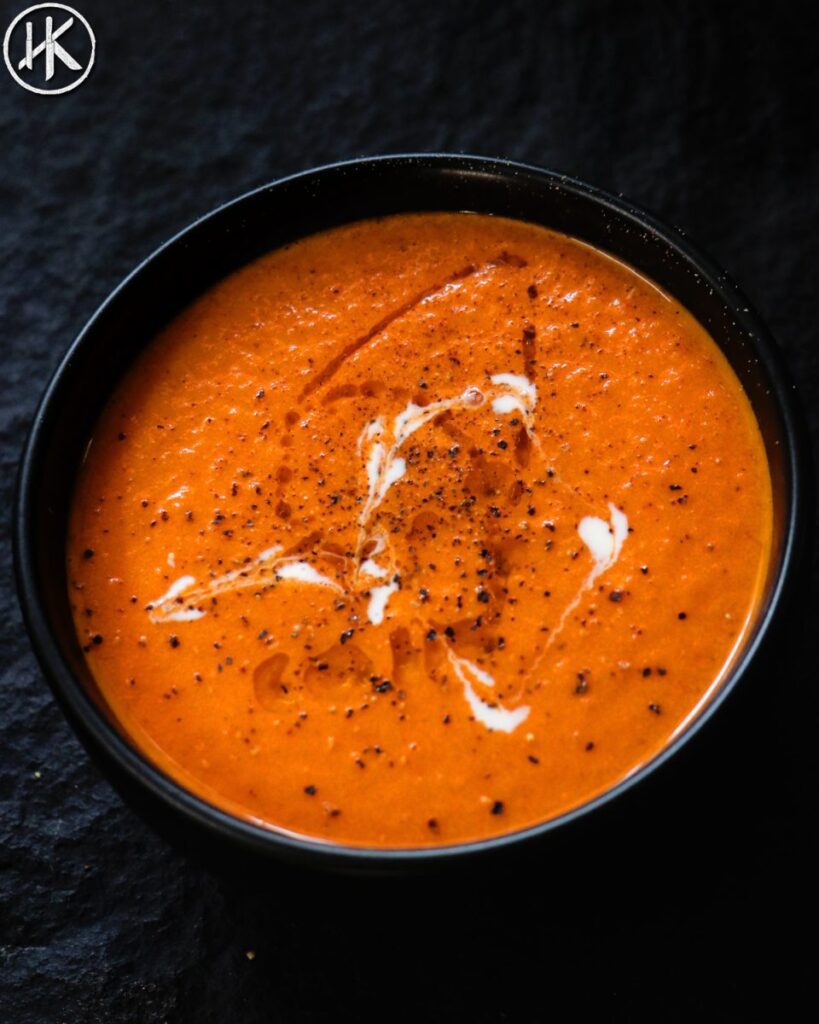 Nutrition Info (Per serving)
Calories: 176
Net Carbs: 7g
Carbs: 9g
Fat: 16g
Protein: 2g
Fiber: 2g
This recipe makes 5 servings. Get this recipe on myfitnesspal.  To calculate the serving size just pour the entire portion of soup into a container and weight it or use a volume measure and divide by 5. So if you get 1 liter of soup then 200ml is 1 serving. If the soup weighs 1kg then 200grams is one serving. You get the idea right?

An easy 3 ingredient tomato soup
Servings

Prep Time

5

servings

5

minutes
Cook Time

Passive Time

15

minutes

45

minutes
Servings

Prep Time

5

servings

5

minutes

Cook Time

Passive Time

15

minutes

45

minutes
An easy 3 ingredient tomato soup

Servings

Prep Time

5

servings

5

minutes

Cook Time

Passive Time

15

minutes

45

minutes

Servings

Prep Time

5

servings

5

minutes

Cook Time

Passive Time

15

minutes

45

minutes
1

Kg

Tomato

60

ml

Heavy Cream

4

cloves

garlic

4

Tbsp

olive oil

Salt & Pepper to taste
Pre-heat your oven to 200C/400F.

Chop your tomatoes in half and then add to a roasting tray along with the garlic and then season with salt and pepper and also the olive oil. Mix well and then roast for 50 minutes. If you don't have an oven you can cook them in a saucepan.

Then transfer the tomatoes, garlic, oil, juices etc from the roasting tray into your blender and blend to a smooth consistency. Strain the soup into a saucepan and discard any grizzly bits which is mostly skin and seeds.

Heat the soup on a low heat and add water to thin it if it's too thick. Also add in the heavy cream, taste for seasoning and add salt and pepper as required.

Serve in a bowl with a drizzle of good olive oil and fresh pepper