Cauliflower is the new potato
As a glorified home cook (not a chef) I can safely say that potato is one of the most versatile foods on the planet. You can mash it, fry it, sautee it, boil it, bake it etc, you get the idea. What has potato got to do with Keto? It's off the menu. Well I'm here to say Cauliflower is the new Potato.
It's not a food I ate much off in my life, in fact I think I quite disliked it. Fast forward to 2015 when I started my Keto journey and cauliflower became my saviour. I think there is nothing more versatile than cauliflower. I've made a cauliflower pizza, used it to replace mashed potatoes in Shepherd's pie and even turned it into cauliflower upma.
Safe to say, it's the new potato. But what's that got to do with hummus? Well cauliflower is the perfect replacement for chick peas or the garbanzo bean to make an incredible keto hummus, or cauliflower hummus. Anyway enough jibber jabber. Enjoy the video.
Cauliflower Hummus
While I made this in the food processor in the video, I did make a test batch in my Nutri-bullet the day before. The way the Nutri-bullet pureed the cauliflower was a much better texture overall, not that the food processor was bad, but it just didn't have the same force. I also must mention that in my test batch I didn't use an olives while pureeing the mixture, I actually chopped them and added later. I think that might also might be a better idea, I think you get that textural element in the hummus itself. You can go either way with this I think.
Now obviously things like tahini, garlic, olive oil, lemon juice and cumin are kind of the must have ingredients for that authentic flavour. Sometimes I like to sprinkle paprika on tour along with a generous dousing of olive oil. Which you can soak up when you dip into that hummus. It tastes just so delicious and full of flavor.
I would say this hummus would be best eaten with my Keto naan or even my Keto crackers. But you can always use vegetables as well to dip in. Lots of supermarkets sell veggies already cut into sticks for dipping. They will be perfect snacks.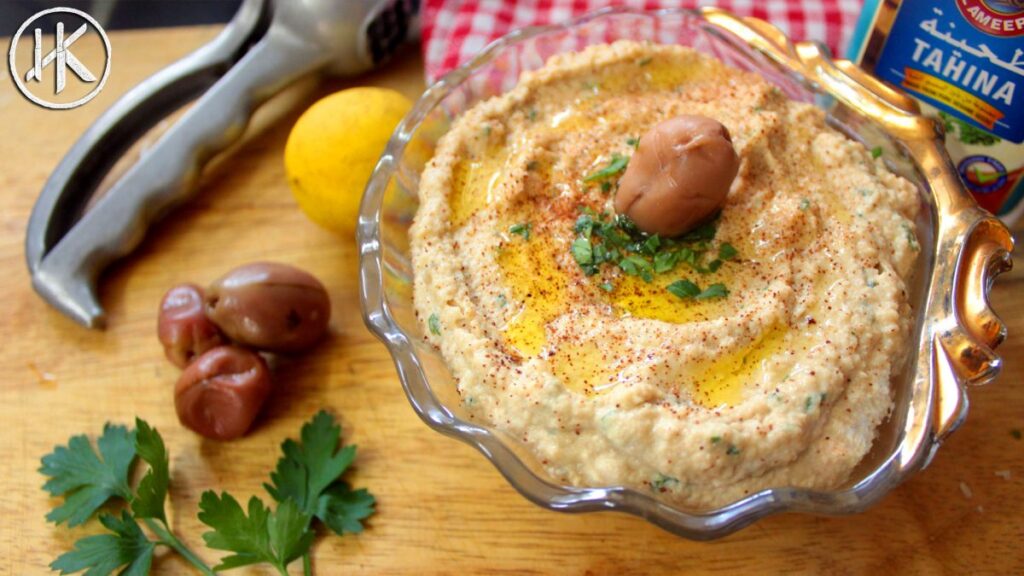 Is hummus Keto friendly?
Well to be honest it is. So why are we eating cauliflower hummus this? Well allow me to explain. Hummus is made with chickpeas. It's got a few other ingredients for flavour but the base is chickepea. Most people think chickpeas are a high protein food. But they are in reality higher in carbs than protein. A 100g of boil chickpeas has 27g of total carbs from which 8g is fiber resulting in 19 grams of net carbs.
So what's the problem? Well Hummus can be anywhere from 8g net carbs to 16g net carbs for a 100g serving. While that's perfectly fine it does take a large chunk of your carbs away leaving you with not much else. Instead this Keto hummus I've made has only 3g of net carbs per serving making it ideal for those on a low carb or keto diet.
I'll say this, if you're going to want to eat hummus in moderation once in a while it's no big deal. Chickpeas and most beans are slow digesting carbs so it's not like you are eating sugar or white flour. So give yourself a break. But if you want to eat without any stress of whether or not you are in Ketosis just eat my hummus. I'm sure it can hold it's own against the best hummus recipes out there. It's also dairy-free and gluten-free.
Nutrition Info (Per serving)
Calories: 150
Net Carbs: 3g
Carbs: 5g
Fat: 14g
Protein: 2g
Fiber: 2g
This recipe makes 12 servings. Get this recipe on myfitnesspal. Now if you want to make this more fatty, you can turn it into avocado hummus. Just mash an avocado into it and you'll get a creamy more rich and fatty hummus. You won't believe it's homemade hummus.
Keto Hummus
A delicious creamy hummus made from cauliflower
Instructions
Clean and cut the cauliflower and separate the florets.

Either microwave the cauliflower for 10 minutes or steam it, boil it and cook till tender

Once done add all the ingredients except the parsley in a food processor and blitz till you get a nice smooth hummus

Keep tasting for seasoning and flavour and add additional quantities if desired.

Once done transfer to a bowl and add the parsley and mix well

Garnish with cayenne pepper, more olive oil , parsley and an olive.
Notes
You can up the fat quotient in this recipe by adding more olive oil to make it even more 'high fat'. You can also use water to make it smoother if you like. Just add everything in small incriments to ensure that you get the desired consistency.